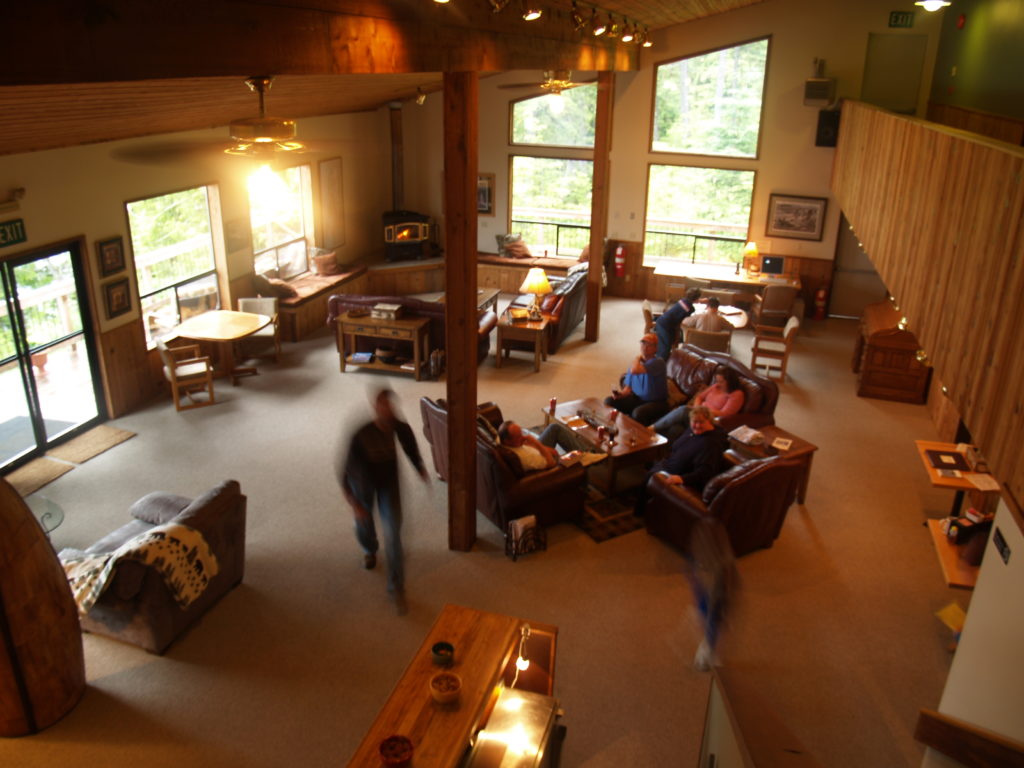 Expansive common spaces reward guests with ample room to relax, reflect or let loose without interfering with other guests. The Great Room's central location and dramatic windows offer a panoramic view of the bay and surrounding forest. Sink into the plush sofas and chairs and enjoy the fire and the company of others while watching eagles soar and hummingbirds hover. Play a game, read a book, consult a map, or plan tomorrow's adventure in comfort. Help yourself to bars stocked all day with coffee, tea, snacks, fresh fruits, sodas and other beverages.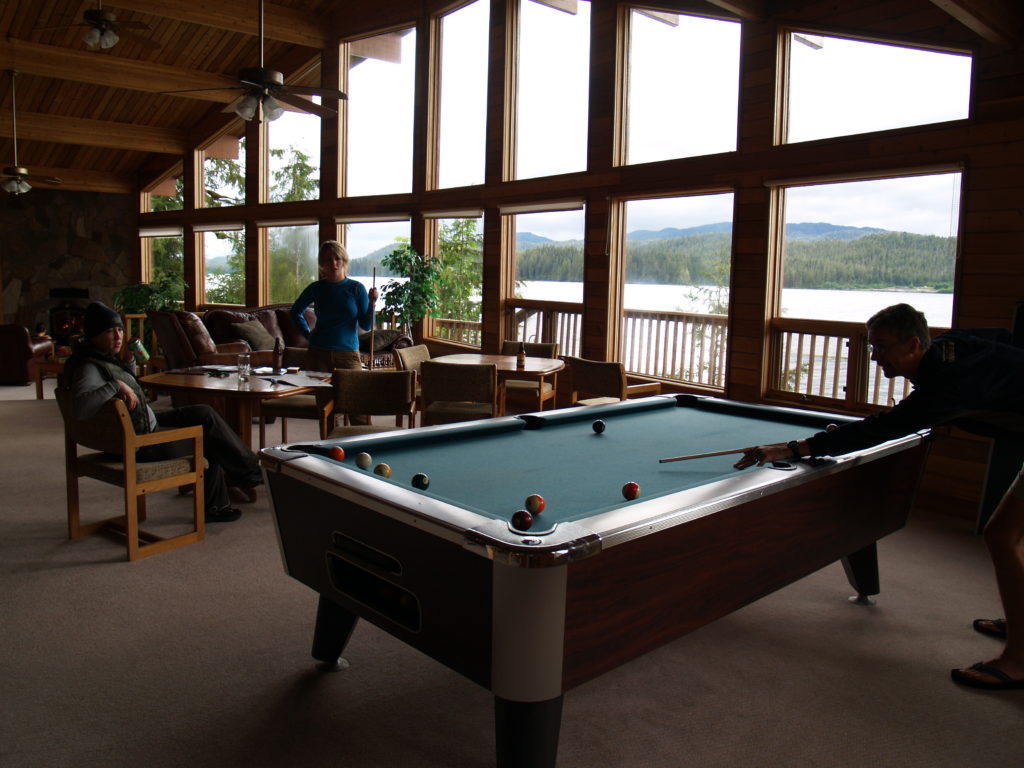 Separated from the main lodge, the Recreation Room boasts stunning views, proximity to the water and assortment of games and distractions. With over 3,000 square feet devoted to leisure, any guest can find hours of indoor entertainment here. The towering picture windows showcase the natural beauty of our location. For those inclined to more social pursuits, we have billiards, ping pong, darts, air hockey, shuffleboard and foosball equipment. A varied selection of VHS tapes (yes, oldies but goodies) and DVDs accommodate those that must get their movie fix while away from home.
With its own refreshments bar and a warm, two story rock fireplace, this is a great place to escape and unwind. On any given day you might see guests sharing adventure and fish tales, a low-stakes game of poker, a competitive pool or board game tournament, a couple cuddling in front of the fire or a showing of Caddyshack. While the room's sound system comes complete with a large selection of tunes, you can use your own device to play exactly what you want to hear. If you'd rather make your own soundtrack, our Karaoke machine stands at the ready.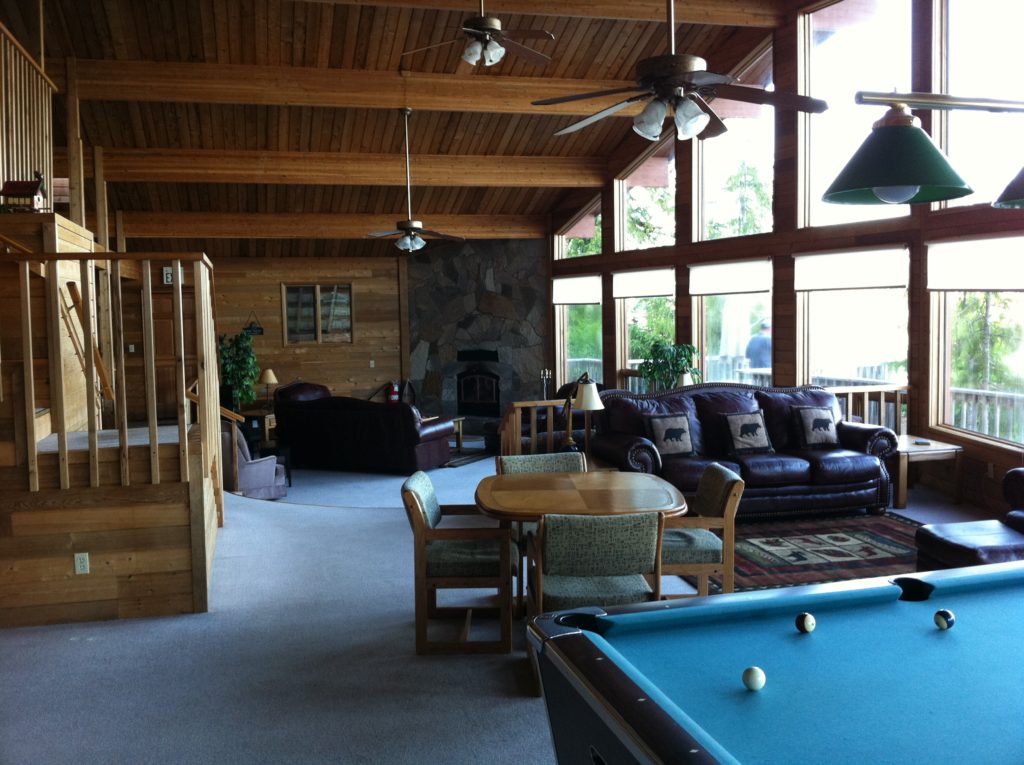 Customized breakfast service, casual hot lunches, and intimate dinners are also available to you in the Rec Room, upon arrangement. The space serves as an excellent spot for corporate and family meetings and private religious services.
Our house is your house, so visit our many on-site outfitting services to see how we gracefully support your daily Whale Pass adventure. The well-stocked Gear Room will dazzle you with its cache of Deadliest Catch style foul weather wear; fly-fishing waders and boots; biking and caving helmets; hiking sticks; kayaking accessories; wet bags; and just about everything else the intrepid wanderer could need.
The separate building devoted to angling gear is affectionately called the Tackle Shack. Here we outfit boats for saltwater fishing, to include commercial quality reels for both monstrous sized deep water beasts and feisty salmon. Our inventory of line weights and terminal tackle would be the envy of many retail pro shops. We also stock a full range of spin casting and fly fishing rods, reels and tackle. We can set you up for casting to creek trout, returning pink and silver salmon, saltwater silvers and kings, and even for a shot at landing a halibut on the fly. A wide selection of line and locally tied flies stacks the odds in your favor on the water.
Complete your day's fishing at our Fish Packing Facility where, after filleting your fish, we will clean, dry, vacuum pack and flash freeze your catch to be boxed and brought home by you.
While remote, The Lodge at Whale Pass boasts a full complement of utilities and technology services. Satellite service provides you with telephone and wifi connectivity. There is no cell signal to the lodge, though you may be able to use your smartphone to connect via VOIP over our internet signal. Recognize that satellite internet is limited by reduced speed and bandwidth. You will have no problems keeping up with emails and performing basic surfing, but high bandwidth activities such as movie streaming and high resolution picture transmissions are discouraged. We are hooked to 24 hour, highly reliable power. Our water is sourced from a crystal clear mountain spring and is treated right on site.