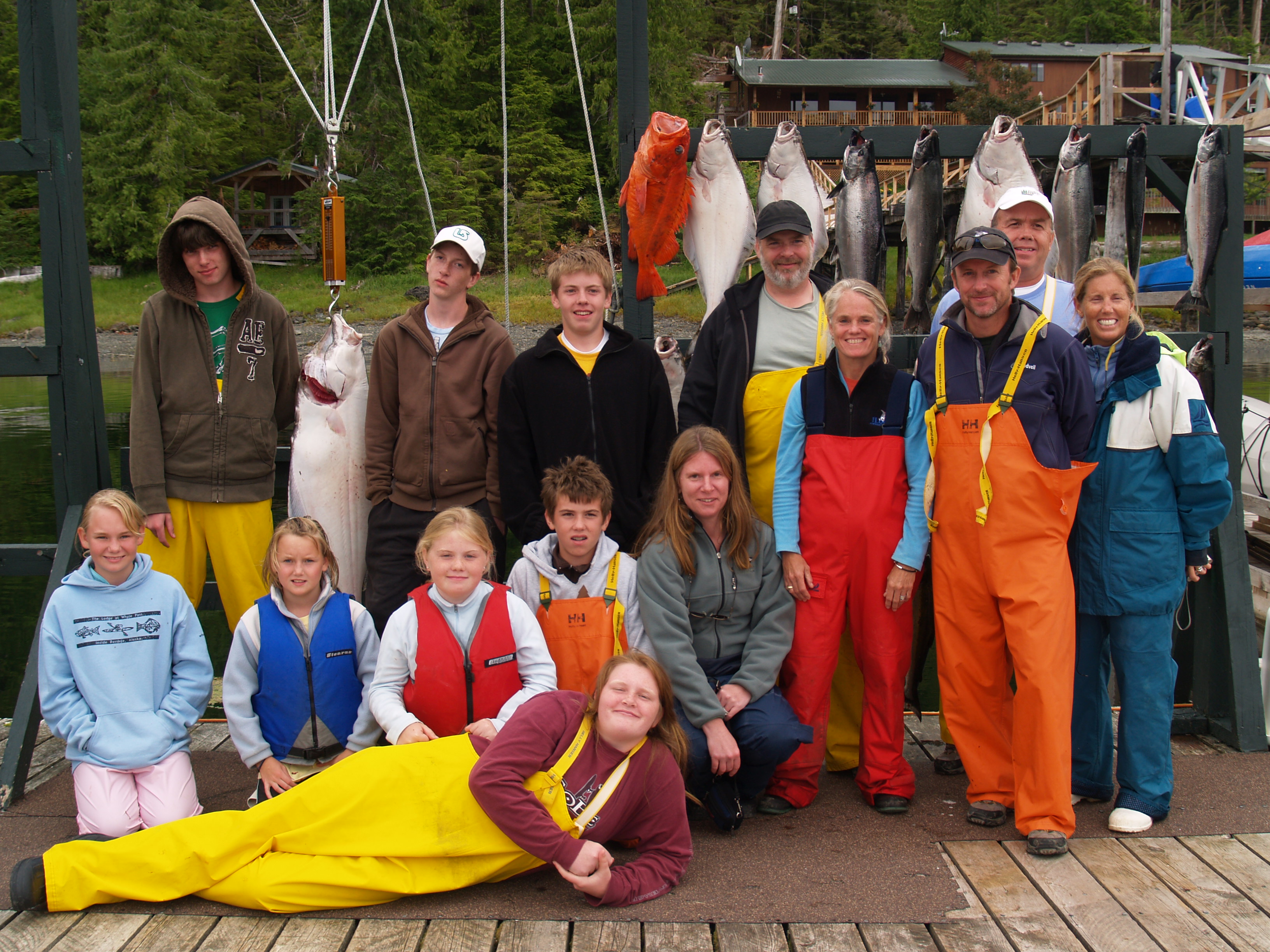 The Lodge at Whale Pass is the perfect platform to immerse large groups with widely varying interests and needs into the natural wonder of Southeast Alaska.  We excel at hosting and coordinating the logistics of stand-out and unforgettable group vacations. We can accommodate Corporate incentive trips and executive retreats of up to 29 guests. Multi-generational and extended Family groups as large as 37 guests can vacation comfortably at the lodge, with family units optimizing occupancy of room configurations.
The lodge can be booked for any number of days.  There are no required arrival or departure days, so you can customize the trip to meet your group's demands.  Unlike other lodges, we don't require specific arrival or departure days of the week for groups. So go ahead – plan your trip on the dates you want.
Why Our Lodge Works
Our roomy lodge and welcoming Great Room promote healthy interaction with just the right amount of space for small-group and individual moments of solitude.  Seventeen spacious bedrooms are all located in the main lodge, facilitating group cohesion with the necessary space to find some alone time. Guests can relax in the quiet lobby or escape to the expansive Recreation Room for movies or games of pool, ping pong, poker and hand shuffle board.  Everyone will savor the tailored culinary delights presented throughout the day and on request by one of the best food and beverage services in the remote lodging industry. We can also fire up the sauna, the hot tub or the firepit as you like.
With all of the food, beverage, cleaning, logistics, laundry, and generally bothersome acts taken care of by the lodge staff, groups can optimize their time together by focusing on each other.  We know that a well run, comfortable home base that eases a group's minds opens the door for the majestic nature surrounding us to create magic moments for everyone.
Considerations for Family Groups
The lodge has proven to be the perfect size for large family groups seeking exclusive use of the property.  Bringing twenty to thirty relatives together comes with a vast array of challenges which we've become expert at managing. Let our remote location and the cathartic power of mother nature bring your family together in ways their everyday lives prevents.  We can actively manage your experience to create a positive experience for family groups and guests travelling with children. Bask in the absence of television and cellular signals at the lodge promoting less screen time and more together time.
Our Philosophy on Younger Visitors
The Lodge at Whale Pass is well versed in accommodating children.  While we encourage kids to join their parents on most activities, when parents need some alone time, they can take advantage of the Kids Program.  Staff provide a range of fun, educational and unforgettable activities, including: beachcombing and hiking; scavenger hunts; fishing off the dock; adventure races; native arts and crafts; interactive pizza throwing classes; and so much more.  We also offer complimentary babysitting for the littlest ones. Reconvene at the end of the day to share your respective days' high points and bring those bonding experiences home with you. Leave as a family, happy, with a renewed sense of connection.
Please note that we designate several summer weeks as "Adults Only", while others offer an enhanced focus on families.
Terms for Lodge Buy-Out
Exclusive use of the lodge requires payment for a minimum of 20 adults, which covers 22 guests as there is one free for each ten paying.  Additional discounts are offered for groups with over 22 guests (call for details). We honor child discounts (see Rates & Policies) once you reach 20 full-paying adults. The buy-out price includes: floatplane transportation between Ketchikan and Whale Pass; exclusive use of the lodge and its extensive public spaces; all food, drinks and accommodations; and fully guided daily excursions.  These packages include all boat and land based adventures. You may choose to add Flyout/Hyperlink this to A3.e/ options to excursions at an extra cost for spectacular aerial views, remote access and to shorten commute times.
Please note that logistics almost always require large groups to be split up for transportation and adventure purposes (typical plane and boat loads are four to six guests).  We consciously manage logistics to meet your desired balance of togetherness and the intimacy of the small group experiences.
Slide 1
"I and 13 other ladies were there to celebrate a dear friend's birthday and we all agreed that the Lodge was nothing short of five-star service. Owners Lynn and Kevin were above and beyond attentive to our needs and wants and that is not easy with that many women!"
Kelly, Incline Village Nevada 2013 TA
Slide 1 - copy
"From the minute we arrived we had activities planned for us and after 30 minutes in the first boat ride we had caught our first halibut!"