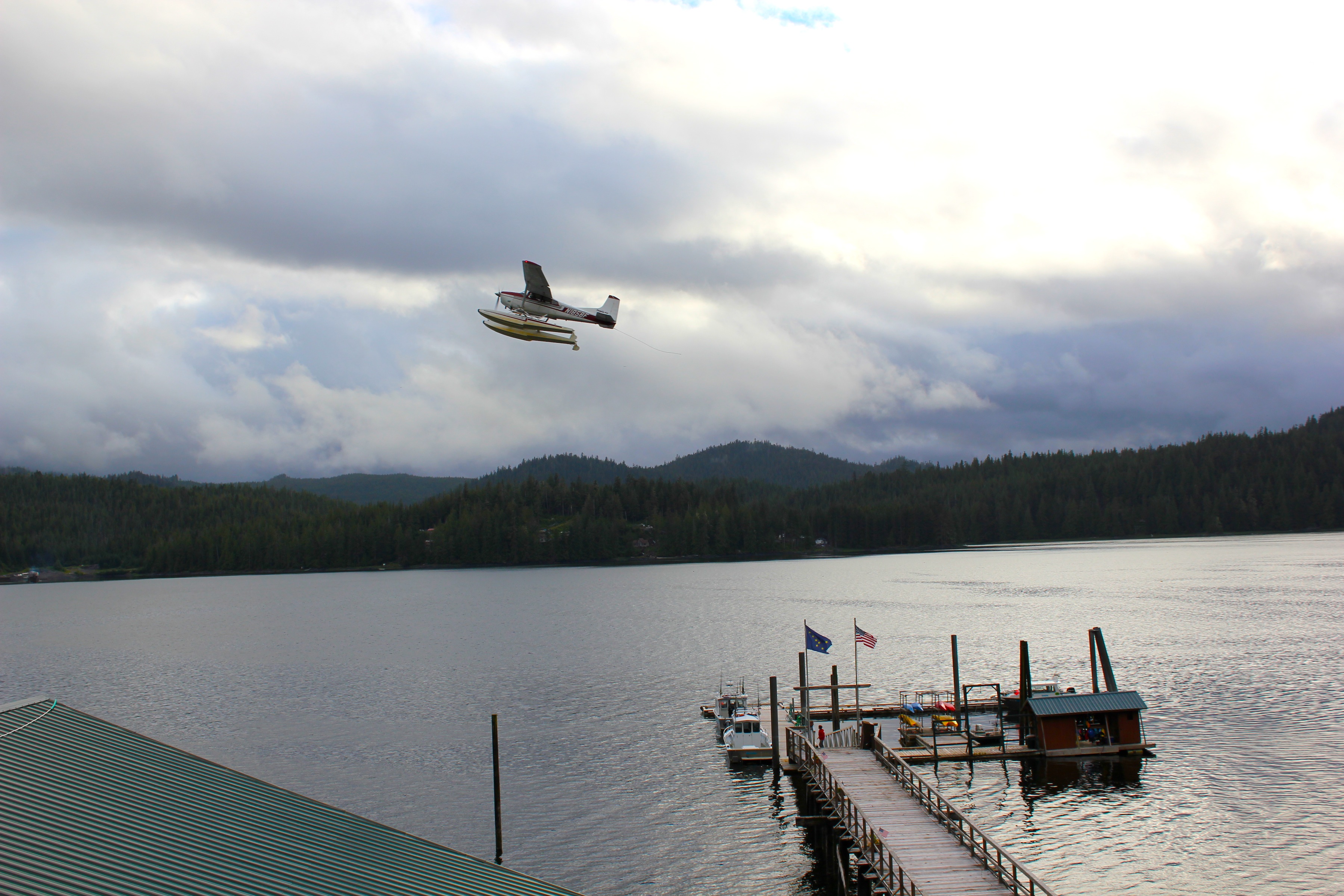 "Wowed" truly describes how it feels to climb into a seaplane, leave your world behind, land at our remote dock and become immersed in the natural beauty and ambience of The Lodge at Whale Pass.  First step: orientation – mingle with your hosts and the staff, share your dietary preferences, and let us know how you want to spend your days. Recognizing that each individual or group has diverse interests, there is no one set program.  Instead, we advocate flexibility. Our guests can choose to be as active or as reflective as they like.
A loose plan will form as to the choice of adventures you will enjoy during your stay.  This plan will be revised hourly based on you and your group's evolving desires. Most of what you do will be guided, though you will likely choose to spend some of your exploring by yourself. Depending on your destination for the day, your guide will outfit you with the proper gear and set a time for departure.  We stock everything you need: fishing and foul weather gear for the saltwater boats; caving equipment; fly fishing gear; mountain biking accessories; and hiking and kayaking gear. You'll be prepared for whatever Southeast Alaska throws at you.
In the rugged Pacific Northwest, comfortable is the way to go.  Out here, it's function over form – there's never reason to dress up beyond "wilderness casual" at The Lodge at Whale Pass. Prepare for the changeable weather with lightweight, moisture-wicking layers than go on and off easily at the whim of the rainforest. The average daily temperature ranges from 50-70℉ with overnight lows between 40-60℉. The best daily uniform is a pair of comfortable pants (weather proof if you prefer), a short or light long sleeve shirt, a fleece pullover or sweatshirt / sweater and a light rain jacket.  Consider packing a stocking cap and light mittens, particularly if you plan to visit our glacier.
Most of the adventures you choose are included in your package and are guided by lodge staff on our boats, in our vehicles and with our equipment.  You may choose to add Flyout/ options to excursions at an extra cost for spectacular aerial views, remote access and to shorten commute times.
When planning on what to bring, note that the recommended float plane baggage allowance is 40 lbs per person.  Don't worry, we've got most of your adventure gear and tackle covered.  Since you'll be travelling by small aircraft and on sea, water resistant and soft-sided duffle bags work best. We will do your laundry on-demand, so pack light and enjoy the travel.
All guest rooms include a hair dryer, all-natural amenities (shampoo, lotion, conditioner), and laundry service.  The gift shop carries a basic selection of outerwear, fleece, base layers, and accessory items, plus keepsake items like hats and T-shirts. If you do forget something, we have a limited selection of toiletries.  Don't forget weatherproofing and chargers for your smartphones and extra camera batteries if you shoot more traditional equipment. Our Wifi is not friendly to large data transfers, making picture and video backups to your cloud cumbersome.  As such, extra flash drives are strongly recommended. Enjoy your trip and be as comfortable as possible by bringing the following items with you for your stay:
Around the Lodge
Casual clothing
Long-sleeved shirts
Warm socks
Jeans
Tennis or walking shoes
Lightweight rain jacket
Swimsuit for hot tub and sauna
Toiletries
Personal and OTC medications
Camera, batteries, chargers
 
 
For Fishing and Adventures
Rain gear with pants
Fleece top
Synthetic long underwear
Hat
Polarized
glasses
Insect repellent
Sun block
Gloves
Hiking shoes
Water shoes
Binoculars
Croakies
Please consider the following as you prepare your trip to The Lodge:
The Lodge at Whale Pass can be reached by traveling from your point of origin to Seattle (SEA), Washington on your choice of airlines, then transferring to one of the many non-stop flights on Alaska Airlines or daily Delta non-stop to Ketchikan (KTN), Alaska.  Floatplane transportation to and from the lodge is priced based on mid-day arrivals to and departures from the lodge on Mondays and Fridays. We are happy to accommodate transfers at times outside of this preference, though it may require an additional surcharge, depending on group size and float plane availability. Depending on your schedule and place of origin, some travel will require an overnight stay in Seattle or Ketchikan.  Check out our Ketchikan Links for more information. After landing at the Ketchikan airport, (or after being picked up at your hotel for those who overnight) you'll board a chartered floatplane for a scenic 45-minute flight right to our dock.  We work closely with the Fixed Base Operator (FBO) at the Ketchikan airport for guests who chose to arrive by private plane.
To best coordinate with our floatplane charters, we encourage arrival into Ketchikan prior to 12:00 PM (to connect with a floatplane to the lodge in the early afternoon) and departure from Ketchikan after 1:00PM (to allow for a late morning or early afternoon departure from the lodge).  If you are flying commercial, consider the following flights (please check Alaska and Delta Airlines for times on your date of travel as they vary slightly throughout the summer):
Arrival:
Alaska Airlines Flt. #65    Depart Seattle at 7:40 AM Arrive Ketchikan at 8:51 AM
Alaska Airlines Flt. #179 Depart Seattle at 9:55 AM   Arrive Ketchikan at 10:54 AM
Delta Airlines Flt. #4664     Depart Seattle at 11:15 AM Arrive Ketchikan at 12:40 PM
Departure:
Delta Airlines Flt. #4664     Depart Ketchikan at 1:15 PM Arrive Seattle at 4:15 PM
Alaska Airlines Flt. #148     Depart Ketchikan at 3:35 PM Arrive Seattle at 6:28 PM
Alaska Airlines Flt. #64      Depart Ketchikan at 5:45 PM Arrive Seattle at 8:35 PM