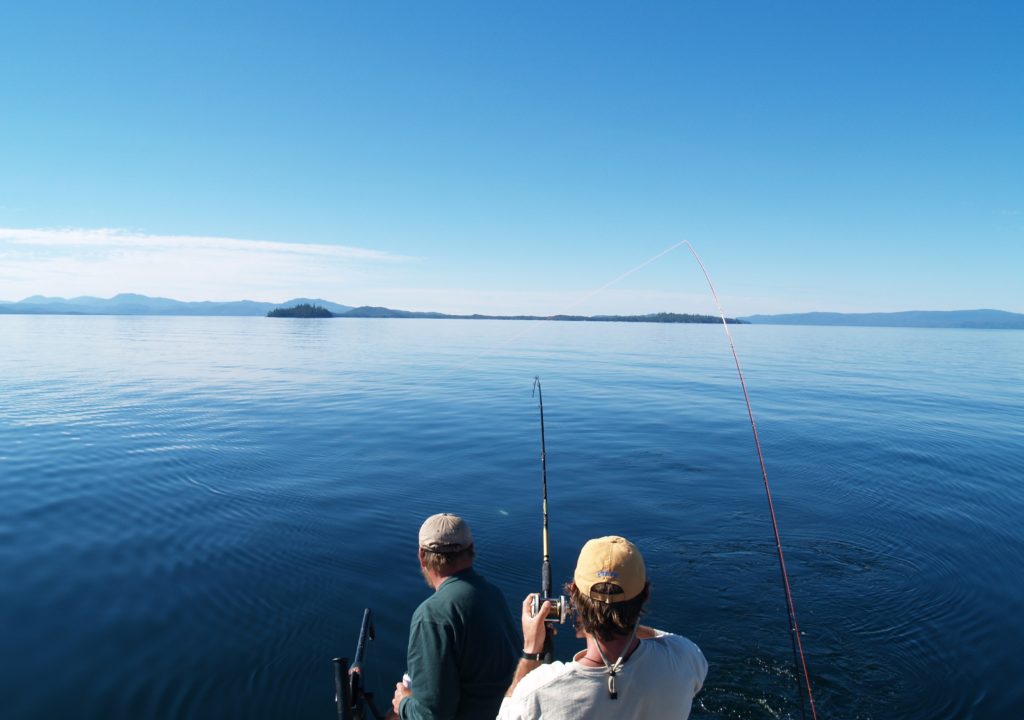 The waters surrounding Prince of Wales Island are legendary for Pacific salmon and halibut. Our location benefits from tidal currents squeezing around the island and smashing together to concentrate bait in inconceivable amounts, drawing large populations of sea life. With the expansive shorelines of the Alexander Archipelago and underwater cliff walls that climb from nearly 1,000 feet deep, conditions are ideal for targeting schooling and bottom-feeding fish.
The hundreds of millions of salmon that spawn along the Pacific rim fatten up in our backyard. We chase them in the calm inside waters and along the Pacific Shores of Prince of Wales, known as the "Salmon Superhighway" for its acclaimed schools of migrating silvers and kings. We follow large concentrations of silvers as early as mid-June and take shots at thirty, forty and fifty pound king salmon from May through July. Smaller, but nothing to sneeze at, resident kings are around all year.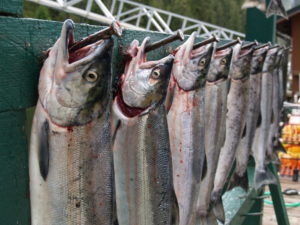 Halibut also love our fishing grounds. Rising from spawning depths of over one thousand feet, these behemoths ravenously scour shallower waters in search of all that rich bait. Stalking these aggressive predators, which can weigh over two hundred pounds, at depths of 100 to 300 feet, makes for a memorable day on the water.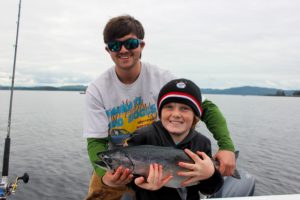 Aboard one of our fully equipped cabin cruisers, a Coast Guard licensed captain will guide you as you troll, mooch, cast and drift for any of the five species of pacific salmon and halibut, along with an exotic and appetizing array of other species including rockfish, yelloweye snapper, lingcod, black sea bass and sablefish. Local islands, protected passages, bays and inlets teem with fish found mere yards from shore. You can stop by remote Point Baker, with its one-of-a-kind fish buying station and Alaska's oldest and only floating bar as well as the nearby village of Port Protection, both made recently famous by the reality TV show of the latter's namesake. While there, you can fish some of Southeast Alaska's best and least pressured grounds in Sumner Straits.
Enjoy the company of humpback whales, orca, sea lions, and dolphins throughout the day and the stunning scenery of the Inside Passage, Pacific Ocean and the snow-capped peaks of the Coastal Mountain Range. A gourmet lunch will be served on your boat with refreshments available all day long. Back on the docks, our staff will clean, fillet, steak, vacuum pack, freeze and box your diverse catch for convenient transport home. Check out the fishing calendar for peak times by species and our saltwater species information page for more details on each.