The Lodge provides all of your angling needs – Captains, crew, guides, tackle, boats, processing, and maintenance of the latest charts and regulations – so that you can concentrate on the adventure.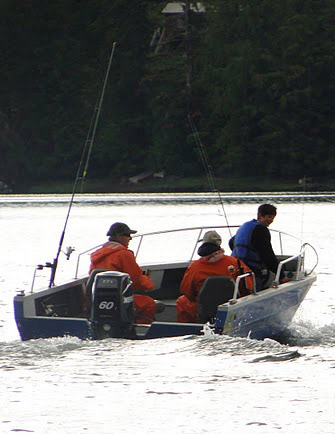 Our experienced guides and captains, many trained in Whale Pass, strive to hook you on trophy-sized salmon and halibut. Each skipper is Coast Guard certified, and offers patient instruction. Guides for the local water and bay have extensive knowledge in all aspects for fly and spin fishing. They are trained to properly handle hooked fish and to respond to wilderness medical emergencies should they arrive. You will enjoy their friendship and hospitality. Our local knowledge is supplemented by constant networking with nearby operators, to assure up-to-the-minute intelligence about salmon runs and halibut catches.
When on the Inside Passage, you will fish from our customized 24′ North River Seahawk and a 29' Almar walk-around Sounder. We have chosen our fleet to suit local conditions, and outfitted it with the latest in marine electronics (VHS radio, radar, chart plotter and fish-finding sonar). For your comfort, each boat has a roomy cabin. For those fishing in the local bay or nearby protected waters (guided or self-guided), our 19' Jetcraft and 16' Kingfisher skiffs offer excellent platforms. With 60HP propped and 125HP jetted motors as well as wide-open decks, you'll have trouble pulling yourself away from the feisty local salmon.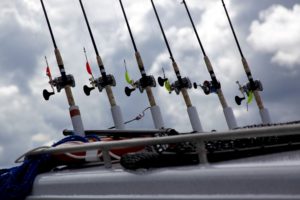 The Lodge at Whale Pass maintains top-of-the-line equipment for all your angling needs. Deep-sea gear includes Lamiglas rods, Shimano reels and a full complement of terminal tackle for every technique we've found to work in our waters. For the fly fisherman, we provide Sage rods and reels and Cabela's wading gear. Our extensive inventory of lines and flies are available and updated throughout the summer to accommodate changing conditions. For those so inclined, a fly tying table in the main lobby is stocked with materials proven to succeed in our local waters. For the spin casters, you will find equally effective gear and tackle. Pixies, spinners, and spoons are inventoried in a variety of sizes and colors to optimize your fishing experience. We'll also make sure you're covered from head to toe in waterproof boots, bibs, and jackets.
Once back onshore, lodge staff will clean, filet, vacuum pack and flash freeze your day's catch for your convenient transport home. Packed in specially designed fifty-pound boxes, you'll be able to check the frozen fish with you on your flight home to stuff your freezer and your friends.